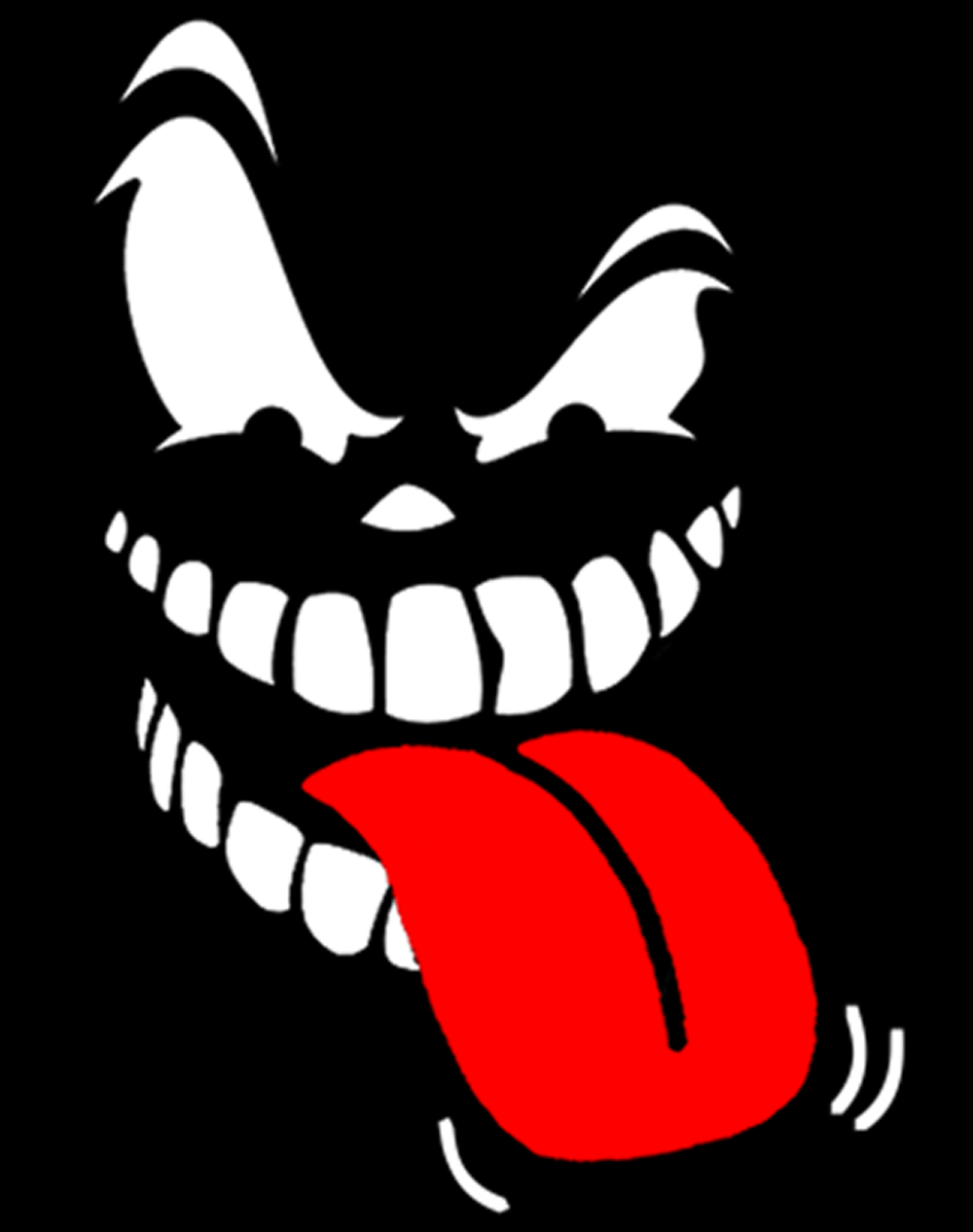 #getmuffed!



Welcome to the home of the Muff Divers Scooter Club. Please feel free to have a good nose around, if you feel inclined to drop us a line or say hello there are plenty of places you can do that. We have an open invitation group chat which you are more than welcome to join, and we can be found on all the usual social media outlets.. Come say hello, we won't bite.. unless you want us to!
MUFF DIVERS SCOOTER CLUB
How, When & Where
Back in the day when we only had only four channels on the TV, and a mobile phone was attached to a battery the size of a house brick, six scooter riding friends decided to establish the Muff Divers Scooter Club.

Its 1986 and founder members: Martin 'Baggy' Bagnall, Mark 'Frizz' Brazier, Jim 'SatNav' Munro, Gaz Fuller, Steve Harrison (RIP) and Danny Burton were at a secret location somewhere in Stafford. The truth is, its not really a secret, its just that in the last 30 years, we have killed far too many brain cells to remember exactly where we were that day. Rumour has it that we were in the Telegraph public house in Stafford, it was one of our go to pubs, so thats good enough for us!

So, the reason we created the Muff Divers? Well, that was because some of the gang had ruffled a few feathers of the more established clubs in town, so back then, we were about as welcome as a beer fart in an overcrowded two man tent.

#getmuffed ;oP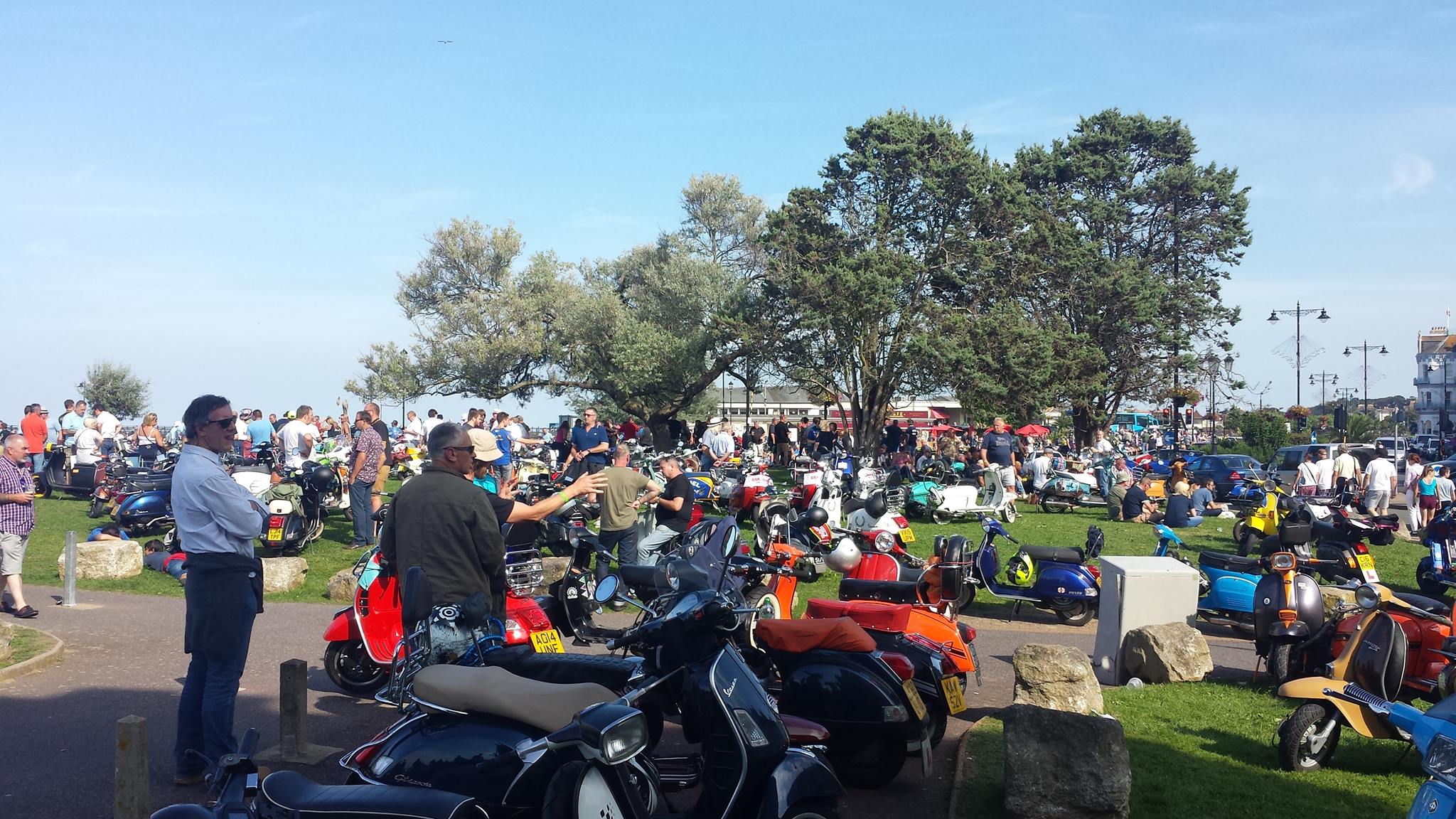 Scooter Rallies
Being regular rally goers, you'll always find a Muff Diver supporting the national and club scooter rallies!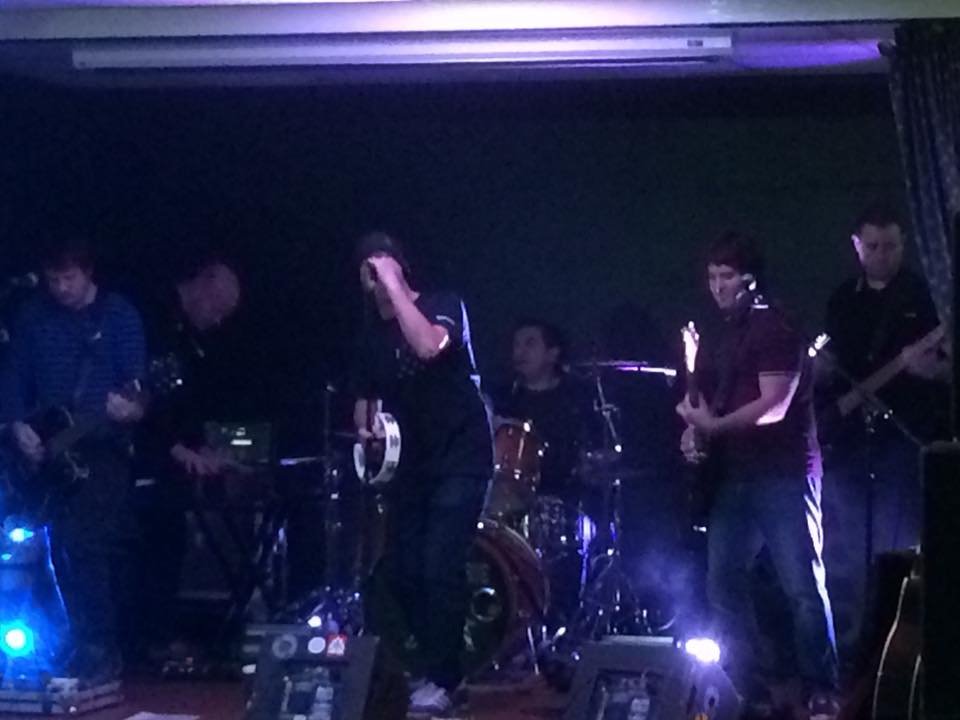 Live Events
Muff Divers Scooter Club hosts the annual End of Year Banger party, which is fast becoming Staffords go to event!

Meet Ups
Muff Divers Scooter Club regulary meet up to chat shit. Drinks will always be free flowing, and everyone is welcome!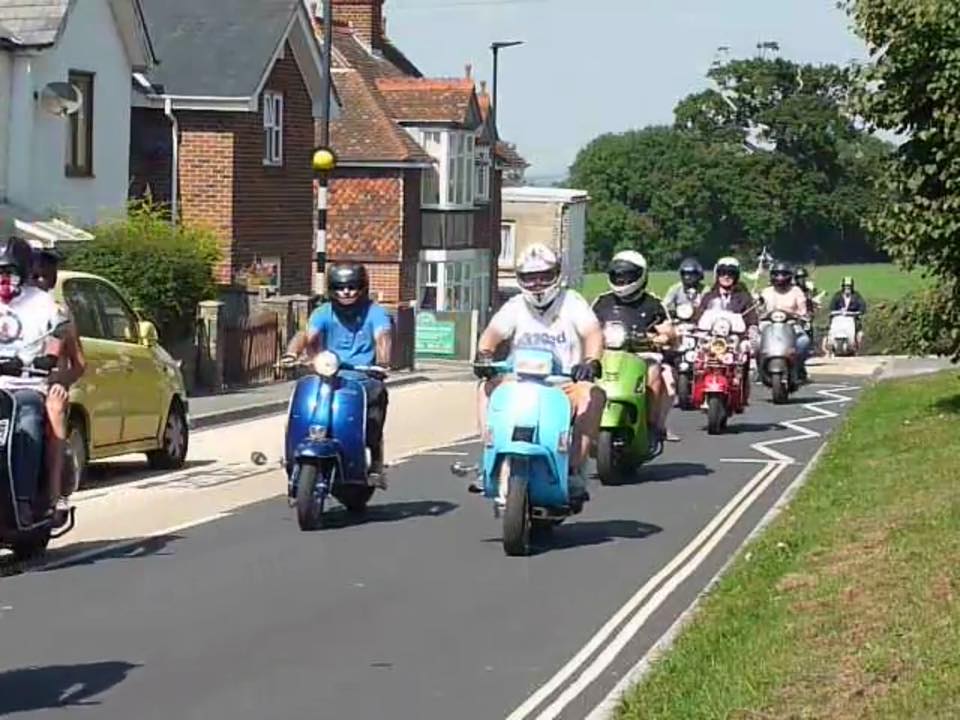 Ride Outs
Muff Divers Scooter Club are always up for a ride. Whether its local, long distance or anything in between, we'll be there!

MUFF DIVERS SCOOTER CLUB
Who are we?
Say hello to some of the Muff Divers Scooter Club

Mat 'Taffy' Burton
SMOKING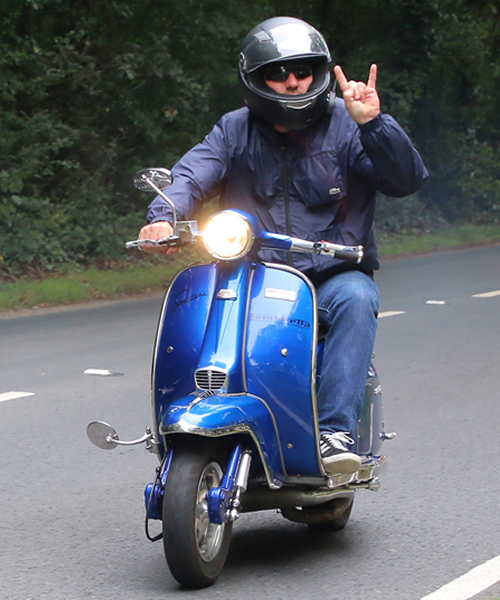 Mat has an extraordinary talent, he can pull over, roll a cigarette, and then smoke it before anyone he's riding with has even removed their gloves! He will turn any unscheduled stop into a fag break and then insist we haven't stopped for a ciggie for ages! Official or unofficial, the fags will come out!
Martin 'Baggy' Bagnall
TICKING OVER
Captain Tickover, is one of the most talented people you will ever come across. Baggy has this skill where he can sit at exactly 55mph, not hard? what if we told you, thats without a working speedo for the last 20 years! You can hear him from miles away sat exactly 1mm either side of tickover! Its quite remarkable!
Mick 'Mouse' Dolman
FULL THROTTLE
Mick has turned more pistons into salt shakers than anyone else we know, this had a bit of an effect on his riding style for a while. However, thats all changed recently. A perfectly setup PX210 means he will now happily point his knuckles to the sky and hold on. Welcome back Micky full throttle, we missed you!
Shawn 'Gonch' Bromley
SEARCHING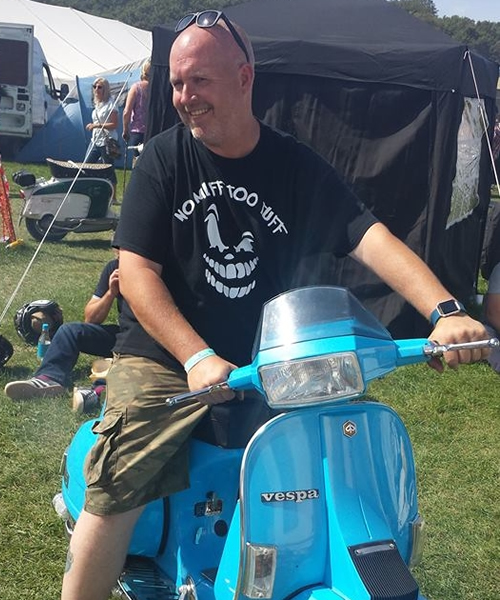 Never give this useless lump anything to look after for you, he'll definitely lose it.. we can guarantee that. We don't know how he does it, but Shawn has a total inability to remember where he puts things. We have spent whole weekends re-tracing our steps searching for shit he's dropped, its incredible.
Jim 'SatNav' Munro
LOST
You can never trust SatNav to get you anywhere without doing a few detours, Jim could easily get lost on a straight road. Give him a roughtly scribbled modification or design on the back of a fag packet and he'll fabricate anything you want.. just don't trust him as point man!
Mark 'Frizz' Brazier
ASLEEP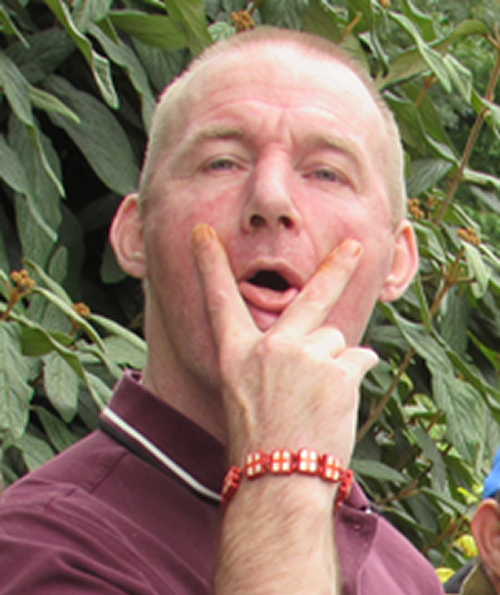 Our man Frizz has had a rough ride recently. He was always the innovator, the first to get into mishchief and always the first to fall asleep.. If you were lucky you'd find him at the end of the night under a pile of coats, if you were unlucky, he'd be on the bog with his pants round his ankles!
Gaz 'Laraz' Fuller
LUCKY LUCKY MAN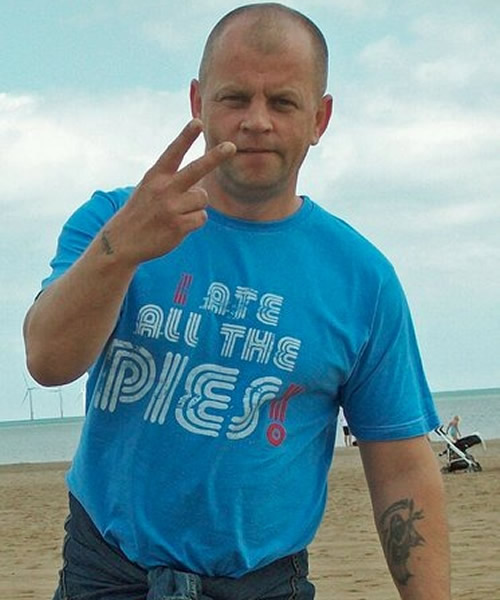 Gaz 'Laraz' Fuller has been missing in action for a few years. Rumour has it that Gaz was exiled to a volcanic island somewhere in the mid atlantic, off the coast of Africa. From what we gather, he ate all the pies and now spends his days doing two things..

Lets Rock!

'Moped' Dan Burton
LATE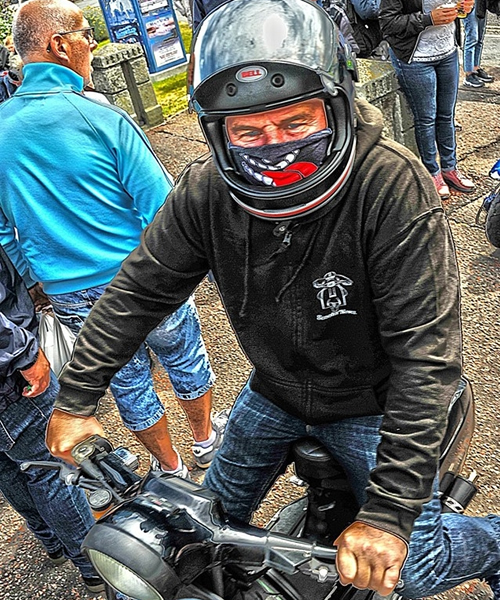 Last minute dot Dan has total inability to be on time for absoloutely anything! Never trust this man to be at the meeting point at the agreed time. If Dan says he'll be there at 8, expect him to rock up at 9, if you're lucky! If you want to leave at 8 you have to tell him to be there for 7!
MUFF DIVERS SCOOTER CLUB
Photo Gallery
Some photos, past and present!

MUFF DIVERS SCOOTER CLUB
Events Calender
Whats happening?